I am waiting to pick up my baby (age 16) at the airport and this is the longest wait ever!  I didn't know the clock could go so slowly.
Updating my blog would be great use of my time, but I wasn't sure what to blog about.  Sure, a garden update is in order.  The update is that I have realized how hard gardening is when it rains constantly.  I did go out to the raspberries, not expecting to do anything but weed.  Surprisingly, there were a ton of berries ready to pick.  This is surprising because we had berries late in the Summer last year.  Also, the berries are very small and not as sweet.  Still sweet enough to eat.  I lifted the stalks and reorganized the bushes since they were very droopy from the weight.  There will be many more berries, especially if it stays dry and the sun comes out.
I could relive my adventures in boat maintenance.
The best option is to cruise everyone else's blogs and see what' up.  A Blog Sorority!  What a great idea.  Too bad I'm late to the party, as usual.  Oh, well.  This blog is worth your time and Karen welcomes late-comers.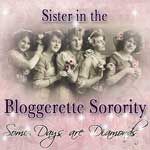 Fortunately, it is time to go and see my way-ward daughter.  That wait wasn't so bad after all.  Beth.